BRIGHTER European Project attracted attention and stood out at the last BioNTERM conference: Bio and Nanomaterials in Tissue Engineering and Regenerative Medicine. Louise Breideband, PhD student at the Buchmann Institute for Molecular Life Sciences at GUF (Goethe University Frankfurt), presented the project on a video-poster where she explained the objectives and the new 3D bioprinting technique being developed. This video was awarded with the best video-poster prize, recognizing the quality of the presentation and the scientific content. In addition, confirming the interest aroused, she was also selected to give a flash talk about BRIGHTER during the event.
BioNTERM conference was the first Virtual Conference and Workshop Series on Bio and Nanomaterials in Tissue Engineering and Regenerative Medicine taking place in Canada. The event, at the interface of Bio and Nanomaterials, brought together experts in different fields from Scientific and Science Communication to Translational Medicine and Regenerative Therapies to boost the integration of different disciplines ranging from materials engineering to clinical practices in order to accelerate discovery and clinical translation.
The BioNTERM conference was held completely online during the five March Monday afternoons of 2021 (1st, 8th, 15th, 22nd and 29th). This innovative format aimed to increase the interaction among participants and speakers, and to maximize learning.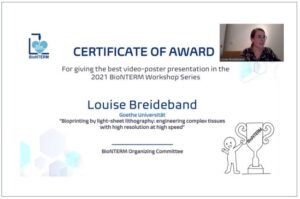 More information: Home | BioNTERM