FRANKFURT. The production of artificial organs is a hot research topic. In the near future, artificial organs will compensate for the lack of organ donations and replace animal experiments. Although there are already promising experiments with 3D printers that use a "bio-ink" containing living cells, a functional organ has never been created in this way. A European consortium coordinated by Dr Elena Martinez (IBEC, Barcelona, Spain) and involving the Goethe University Frankfurt is now breaking new ground. The consortium is developing a lithography method that relies on light sheet illumination and on special photosensitive hydrogels that are mixed with living cells.
Lea más
The new project "Bioprinting by light sheet lithography: engineering complex tissues with high resolution at high speed" (BRIGHTER) will be funded by the prestigious and highly selective Future and Emerging Technologies EU programme (FET Open, part of Horizon 2020). The EU will support this three year project with a grant of 3,450,000 €  of which 700,000 € will go to the Physical Biology Group of the Faculty of Biological Sciences at Goethe University. The consortium of BRIGHTER includes Goethe University Frankfurt, Germany), IBEC (Barcelona, Spain, consortium coordinators), Technion (Haifa, Israel) as well as the companies Cellendes (Reutlingen, Germany) and Mycronic (Täby, Sweden).
Lea más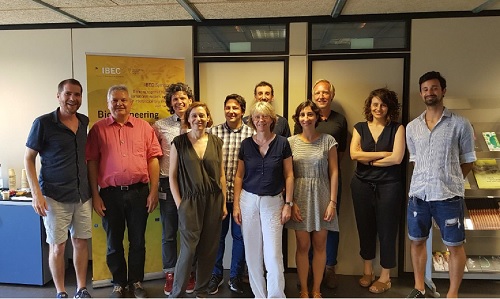 The partners have taken the opportunity to explain not only the role and responsibilities of everyone but also the main...
Lea más