The 6th world congress of the Tissue Engineering and Regenerative Medicine International Society (TERMIS2021) took place online last 15-19 of November, with the general theme: "Biologically inspired technology driven regenerative medicine". The TERMIS World Congress is held every three years, and brings together researchers, scientists, clinicians, trainees and students from both academia and industry to discuss critical developments in the field.
The meeting was led by keynote speakers and this year researchers presented their work in 9 parallel thematic sessions, either with oral presentations or posters. Other complementary actions also took place during the congress including national, student and young investigator, industrial, clinical, European Projects sessions. Lunch workshops and usual business plan competition stimulated the networking and interaction among participants.
In this highly rich scientific atmosphere, BRIGHTER project was present through three participations.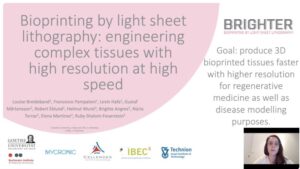 Louise Breideband, PhD student at Goethe University Frankfurt (GUF), in Germany, gave a flash talk entitled "Bioprinting by light sheet lithography: engineering complex tissues with high resolution at hight speed". More than 150 people assisted to her talk that generated very fruitful discussions about the light-sheet microscopy technology and its application to the field of 3D bioprinting.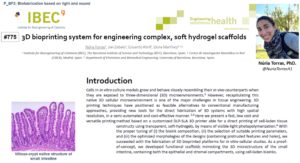 On the other hand, Núria Torras, postdoctoral researcher at the Institute for Bioengineering of Catalonia (IBEC), in Spain, presented a poster where she explained the "3D-bioprinting system for engineering complex, soft hydrogel scaffolds".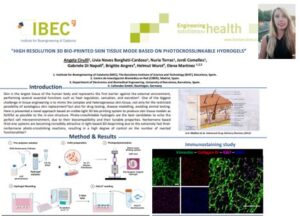 Finally, Angela Cirulli, PhD student also at IBEC presented another poster showing the "High resolution 3D bio-printed skin tissue model based on photo-crosslinkable hydrogels" to close the great participation of BRIGHTER Project in this such relevant congress in the field of Tissue Engineering and Regenerative Medicine.
Link to Termis 2021.