BRIGHTER is a European Project that brings together different academic and industrial partners to develop a new 3D bioprinting technology able to produce human tissues at high speed and with high spatial resolution. This innovative technology is based on light-sheet lithography and an original top-down approach.
Anna Altshuler is a Postdoctoral researcher working in the frame of BRIGTHER Project at Technion, Israel.  She has a bachelor's degree in biotechnology engineering and has a strong background in the study of stem cells using different approaches and techniques. Her previous research experience adds, undoubtedly, high value to the project! Discover in the interview below some aspects of her personal and professional profile, as well as her role in BRIGHTER project.

Can you describe yourself in a couple of lines?
My name is Anna Altshuler, a Postdoctoral researcher in Ruby Shalom-Feuerstein lab at Technion. Our lab is interested in epithelial stem cells and pathophysiology focusing on skin and cornea. I was born in Ukraine and my family immigrated to Israel when I was a child. After graduating from high-school I completed my military service in the IDF (Israel Defense Forces) as a computer network manager. Following my army service, I did a bachelor's degree in biotechnology engineering at Braude college. For my master and PhD degrees I joined Ruby Shalom-Feuersteins' lab at Technion. In my master studies, I focused on the role of RAS oncogene on pluripotent stem cells. I worked mainly with mouse pluripotent stem cells and many molecular techniques like RT-PCR, western blot and immunofluorescent staining. In my PhD I focused more on the adult stem cells of the cornea by using different genetic mouse models and advanced genomic technologies as single cell RNA sequencing.
What is your role within Brighter?
My role in the BRIGHTER Project is trying to use the knowledge I gained on stem cells by growing them on the gels producing the differentiated cells that are a part of functional 3D skin tissue.
Could you tell us a little bit about the concrete work you're involved in inside Brighter project?
I am currently working on integrating primary human cells isolated in our lab with the new gel technology in order to test their ability to survive, migrate and proliferate inside the gel. By using known cellular markers, we will be able to see follow the evolution of the different cell types forming a skin model.
What is the expected impact of the work you're doing?
Our results should demonstrate the proof-of-concept for BRIGHTER bioprinting technology combined with different kinds of primary cells that form the skin tissue.
How do you feel about being a part of this European Project?
Since the pandemic, I didn't have the chance to meet my fellow project partners in person. It's always a pleasure to meet them on "Zoom" and discuss the interesting results or consult about different issues in the project.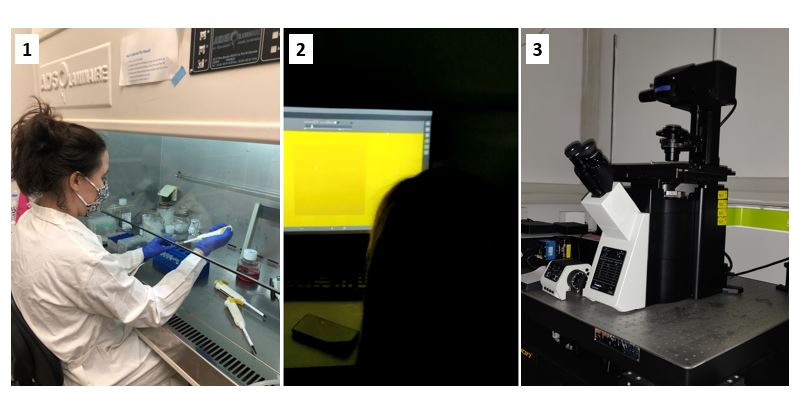 Overview of an experiment to prepare light inducible hydrogels containing cells.
1- Gels are mixed with mouse fibroblasts cells that are known to support primary keratinocytes
2- I adjust the settings for gel induction according to our experimental design
3- Finally, gels are illuminated under this special microscope to polymerize